Barber Beast on the Block - Submit Timing Results

Noon Friday, May 21st- Midnight Monday, May 24th, 2021 EST

Go to the Active event results page
Enter your registration ID started with "R-", found on your confirmation email.
Click Go


On the result submit page, enter your Finish time and Upload a screenshot of the result page from your timing app or a photo of your GPS watch or phone app screenshot that shows the time and distance completed.

Times must be submitted in the following format:
Correct: 00:35:30 Reads as 35 minutes and 30 seconds
Incorrect: 35:30:00 Reads as 35 hours, 30 minutes, and 0 seconds
Other details:
For your time to be accepted, your submission MUST include a screenshot of your run clearly showing BOTH the completed 3.1 miles and your accurate finish time.
DO NOT upload a selfie to the "Choose File" area; this is for the photo of your GPS watch or phone app screen shot to prove your time and distance. Please submit your selfies to the Barber Beast via social media.
Timing submissions will only be accepted on Active and will not be accepted via social media or email.
Your screenshot time should match your submitted time exactly.
If you run further than this distance, your time cannot be averaged to the correct distance.
If your screenshot and time do not match, your time will be rejected.
If your distance does not equal at least1 miles, your time will be rejected.
If your time is rejected, you can re-submit before Monday, May 24 at midnight.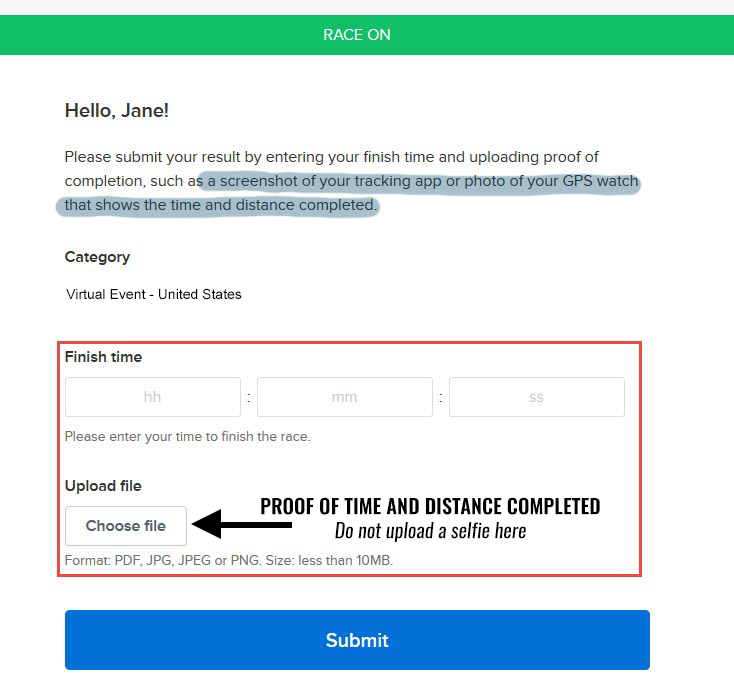 Note: The result can be uploaded at any time between the start and end of the event (a countdown to the deadline is displayed).
Note: Participants can submit a replacement result by repeating the above process; only the latest submitted result will be presented to the organization for approval.


Note: The bib numbers are now visible in the ACTIVE Results site. Participants can also search for their results by bib numbers.